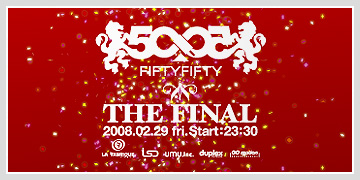 2年以上に渡り、ラファブリックのレジデントをつとめてきたパーティー「50/50 FIFTY FIFTY」。残念ながら2/29(金)で最終回です。自分自身もそして一緒にやってきたメンバーも色々と変わる時期なのか、これで最後というのが今回最良の決断。また違うかたちでパワーアップしてお会いできたらと思います。
50/50 FIFTY FIFTY Websaite


これまでに出演してくれた皆さん、そして支えてくれたスタッフ、お友達の皆さんに感謝します。29日はレジデントDJのみでDJし、最高の一夜を貴方に捧げます。最後来てね。フロアで会いましょう!
"50/50 FIFTY FIFTY" the party at La Fabrique Shibuya will enter it's next phase! For more than two years our party featured good house music from talented domestic and international DJs and VJs. But the time has come and we decide to move on. We promise you a great last party sooooo, make sure you get down on the floor with us. And last but not least, we wanna say thanks to DJs and VJs who played at our party and many many friends and staffs who supported us in many many ways. Hope see u on 29th!
La Fabrique will keep moving on with many good parties and DJs such as Marshall and Kai representing SOLID and Aron T representing SOUL so the spirit will carry on!

"50/50 FIFTY FIFTY" THE FINAL!
2008/02/29 (FRI)
Open/Start 23:30pm-
Fee : 3.000yen (w/1D) With Flyer 2,500yen (w/1D)
RESIDENTS: Kaori a.k.a. LadySomethingDifferent, Rhythmical Girls,
Sa-sa (UMU tracks), Shoyu Watanabe
VJ by Go Motion, Duplex (DSK+SAPO)
YOU MUST BE OVER 20. PLEASE BRING YOUR ID!!!
LA FABRIQUE :〒150-8377 東京都渋谷区宇田川町16-9 ZERO GATE B1
JR渋谷駅ハチ公口 徒歩5分 TEL03-5428-5100
INFO : http://www.rudesign.jp/movie/5050/