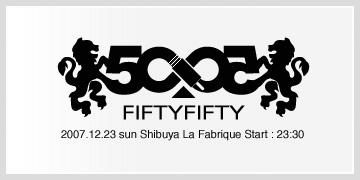 12/23に恒例、渋谷LA FABRIQUEにてVJします。クリスマスイブイブの23日お時間ある方は是非!ディスカウント希望の方はメッセージ下さい。
あと、FIFTY FIFTYウエブサイトにKaori a.k.a. LadySomethingDifferentのNEW MIXがアップ!こちらもお楽しみ下さい。
2007/12/23 (SUN)
Open/Start 23:30pm-
Fee : 3.000yen (w/1D) With Flyer 2,500yen (w/1D)
WELCOME DRINK : SPARKLING FRUIT PUNCH
GUEST DJs : HOTHOUSE TOKYO DJs (KAI, JANGA, DJ HARVEST, RAIMON)
RESIDENTS: Kaori a.k.a. LadySomethingDifferent, Takuji (52type), Sa-sa (UMU tracks), Shoyu Watanabe
VJ by Go Motion, Duplex (DSK+SAPO)
YOU MUST BE OVER 20. PLEASE BRING YOUR ID!!!
LA FABRIQUE :〒150-8377 東京都渋谷区宇田川町16-9 ZERO GATE B1
JR渋谷駅ハチ公口 徒歩5分 TEL03-5428-5100
+++++++++++++
X'mas Eve EVe のスペシャルバージョン「50/50 FIFTY FIFTY」は お騒がせボーイズ「HOTHOUSE TOKYO」のメインクルーを迎える。 DJ KAI (SOLID)、JANGA (SUMOON)、DJ HARVEST, RAIMONと 「50/50 FIFTY FIFTY」レジデントDJとの1×1バトルDJセットで闘曲を交わす! 果たしてソコから生まれるグルーヴとは…!? 2007年ラストとなるFIFTY FIFTY、お見逃しなく!
*X'mas気分を盛り上げてくれるキラキラ☆グリッターなものをお持ちの方はスペシャル・プライス でエントランス可能!
*今年一年の感謝を込めてウエルカムドリンクにSPECIAL SPARKLING FRUIT PUNCHをご用意! 数量限定、お早めにどうぞ!
X'mas Eve Eve special version of "50/50 FIFTY FIFTY" will feature guest "HOTHOUSE TOKYO" main DJs [DJ KAI (SOLID)、JANGA (SUMOON)、DJ HARVEST, RAIMON] on decks with Fifty Fifty resident DJs to do a 1×1 battle DJ set! Don't miss this chance to enjoy the groove with us...
*Discount Dress code : GLITTER~! Wear something glittering and you'll
receive discount at door
*FIFTY FIFTY complimentary drink SPECIAL SPARKLING FRUIT PUNCH will be served for those early birds...